Awesome 3rd Birthday Cake!
by Dana Patterson on Dec 19, 2022 146
I recently went to a birthday party and my friend made this cake for her son! She had an amazing 3rd Birthday Cake Idea and I wanted to share it.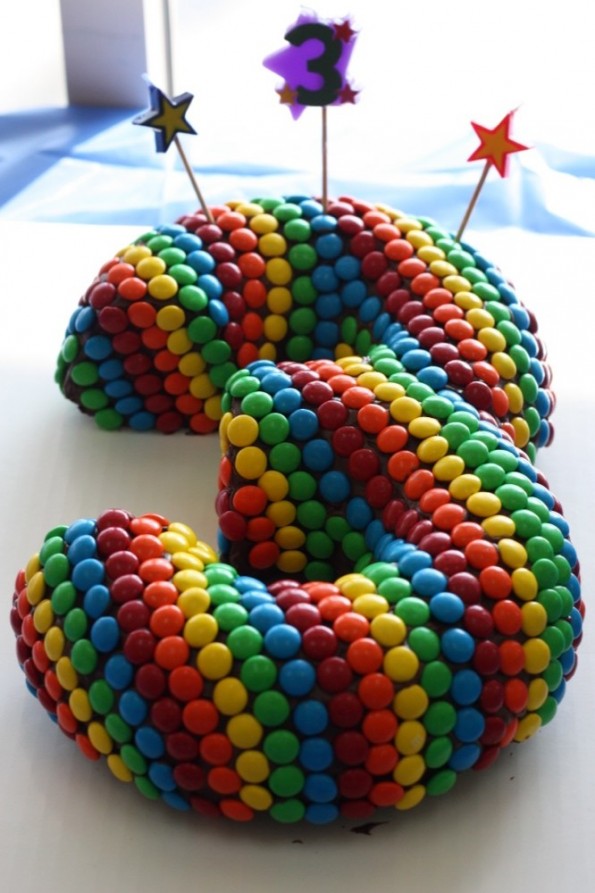 Talk about AH-MAZ-ING. So creative. I was asking her about it and she said it would seem that the M&Ms would have taken a long time, but they only took her about an hour!
This is what she said she did:
Take two bunt pans and bake your desired flavor of cake – you could even make two different kinds.
Cut the two cakes so they become the 3 shape (obviously, you can test this by cutting a little at the time).
Flatten out the two parts where they attach (she said to put a little frosting where they attach so they stick better).
Ice the whole cake with chocolate icing
Pattern the M&M's like the picture above.
And you did it…. righhhhhhht.  I do think this cake is simple if you pay close attention to detail by taking your time.  Here's the sweet birthday boy blowing out his candles:
She also had something else cute at the party that I would share.  Each child had pizza to eat and one of these snack bags:
Such a fun and creative party! I might have to steal some of these ideas! Happy party planning!
For other party ideas:
Ella's 3rd Pancake and Pajama Birthday Party
1st Birthday Party Ideas
Cupcake Cake Idea
Lion Birthday Party
Super Hero Birthday Party
Other bundt pan ideas:
Too Much Chocolate Cake
Popcorn Cake
Cream Cheese Monkey Bread
About Dana Patterson
I'm an energetic SAHM of two fun little girls! It's never a dull moment with kids 21 months apart. I love life and enjoy cooking, working out and just hanging with my family.